Join your neighbors at The Exchange At Van Dorn condos. We live in the heart of the historic and happening Eisenhower Valley neighborhood of Alexandria Virginia and are ideally located just inside the Washington Beltway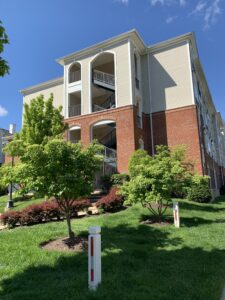 If you're a resident, please click on "Residents" for news and other information.
If you'd like to learn more about The Exchange at Van Dorn condos, please click on "Community."
You can learn about our property, get a sense of who we are and how proud we are of our community. Read on to get a taste of what it's like to be one of our neighbors.
The Exchange is located in the Eisenhower Valley neighborhood of Alexandria, Virginia.
Our prime location, just inside the Washington Beltway, provides fast access via car or metro to Old Town Alexandria (10 mins), National Airport (16 mins), Arlington (18 mins) and downtown Washington DC (23 mins).
Our nearest Metro Station, Van Dorn Station on the Blue Line, is just a 10-minute walk from our front door.
We have direct connection via the region's freeways and highways to National Harbor (11 mins) and major shopping malls (11/21 mins).
If you're headed out of town, both Dulles (30 mins) and Baltimore (50 mins) Airports area nearby.
The Shenandoah mountains (75 mins) are just short drives away.
If you have any questions, our Management office can be reached here.
This site was created by residents and owners of The Exchange to facilitate communication within the community and with the general public. It is independent from The Association. Views expressed here do not necessarily reflect that of The Association. The Association maintains their own page here.